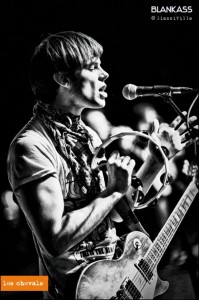 Instruments : Au sein de Blankass Guitare et Choeurs.
Parcours musical : Quelques formations au lycée déjà avec demoiselle Sabine (Acid Candy) puis The Surgeries depuis 2006 (Electro Rock), Lady Chevrotine (French Pop), Lightweight Giants (Pop Folk), Georges (Side de Johan Ledoux) puis Blankass !
Passions : Collection d'ampoules (époque Guerre Froide uniquement).
Album favori : The Killers (Hot Fuss)…definitly !
Film favori : La filmographie complète de Jim Carrey ?
Livre favori : Dictionnaire de poche Français-Croate.
Meilleur souvenir de concert : Arcade Fire…definitly !
Le truc inavouable que vous cachez : J'ai comptabilisé 2000 vues à moi seul sur YouTube pour des vidéos de High School Musical 2.